Home
Fall Flower Gala
Arrangement
This breathtaking bouquet is a delightful mix! Featuring gorgeous orange 'Asiatic' lilies, sunflowers, peach snapdragons, orange roses, and more, Fall Flower Gala creates an inspiring autumn view, bringing warmth to any room. Send this awesome autumn arrangement to someone you love today!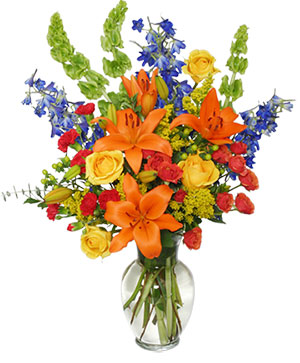 AWE-INSPIRING AUTUMN
Floral Arrangement
These vibrant fall flowers will have everyone saying, "Wow!" Filled with radiant orange 'Asiatic' lilies, yellow roses, blue delphinium, bells of Ireland, and more, Awe-Inspiring Autumn lives up to its name. Send your loved ones some fall vibes today with this exquisite bouquet!